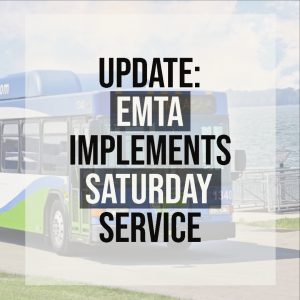 Due to COVID-19 disease, The Erie Metropolitan Transit Authority has made the decision to implement a three-tiered emergency operations system to curtail transit to essential establishments effective Monday, March 30, 2020 until further notice.
The routes that will operate on a Saturday Schedule with Weekday Service ONLY are listed below:
Route 1: Glenwood
Route 3: Peach Street
Route 14: Edinboro
Route 15: East 38th Street
Route 16: North East
Route 17: Briggs Ave
Route 21: Lawrence Park
Route 22: Tacoma
Route 25: Wesleyville
Route 26: East 26th Street
Route 27: State Street
Route 28: Erie Heights
Route 29: Fairview
Route 30: West Millcreek
Route 31: Frontier
Please reference our "Routes" page for complete Saturday Schedule times.
Routes that are not on the list will be suspended until further notice.
Weekend fixed-route service is suspended until further notice, starting this weekend March 28th & March 29th.
LIFT will continue operations complimentary to the fixed routes above and medical clients.
LIFT service on the weekend will be for medical trips only.
Once on board, we urge customers to leave extra space between themselves and others. This form of social distancing can help protect employees and customers from the spread of the COVID-19. EMTA continues its daily disinfection process on all vehicles using EPA-approved and CDC-recommended cleaning products.
We apologize for any inconvenience during this trying time.