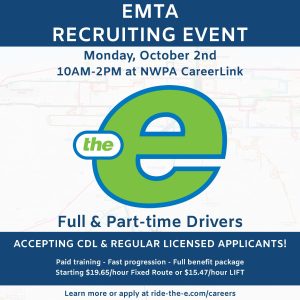 We are hiring!
Join us Monday, October 2nd, from 10AM-2PM at Northwest PA CareerLink (1647 Sassafrass St, Erie) for a chance at a new career driving with the EMTA!
We are currently seeking full and part-time LIFT & Fixed Route (CDL) drivers. No special license is needed for LIFT applicants.
Paid training – Fast progression – Full benefit package
Fixed Route Starting 19.65/hour and LIFT Starting $15.47/hour
Only requirements: clean driving record, ability to pass DOT physicals, drug screen and child abuse clearance.
Interviews will be offered on sight. Please bring your valid drivers license. A resume is preferred but not required.
Don't be stuck at a desk, behind the counter or in the shop when you can drive your way into a new rewarding career!
EMPLOYMENT OPPORTUNITIES
We're Hiring!
Administration Opening – Please email tcroll@ride-the-e.com with resume to inquire about these positions
Safety & Security Manager
Employment opportunities, when available, will be listed below. You may apply in person by bringing your resume to our headquarters located at 127 East 14th Street, Erie, PA 16503, or you may contact us for more information.
General Employment Application
Candidates interested in applying to EMTA or the Lift can mail their resume and clean MVR to 127 East 14th Street, Erie, PA 16503. Please indicate if you are applying to the Lift or to EMTA.
Qualifications may include but are not limited to: good driving record, no DUI's, and no felony convictions. Must pass Act 33 and 34 clearances as well as D.O.T physical. No applications will be considered without a PA driver's license. Many positions require a valid Pennsylvania CDL License. EOE.